Maximise your sales potential with the perfect exposition on your store or office front. Have your logo and message to the outer world displayed in a stylish and attractive way. Tell your customers that you have Sale on or set your seasonal decoration with removable stickers made to order - they are easy to apply and change whenever you need
With thousands of people walking in front of your store, office, shop, restaurant or bar each day, you have a unique opportunity to create lasting impression with your target consumers. Your store front is the ideal location for targeted advertising. With a wide variety of people who will pass by your shop, we can help to create the ideal store front branding and decoration for your customers that will grab their attention and encourage them to come in. We believe that your exterior should be treated as a living extension of your business.

Here at Sticky Colours we have state of the art machines equipped with the latest printing technologies to create the ideal custom designs you are looking for. Our dedicated team of designers pull from a wide range of materials to create superb and cost efficient branding products and help make your business stand out. We also have our own team of professionals who can install a wide range of products including but not limited to:

★ Frosted and Clear Colour Window Film
★ Window Graphics
★ One way vision window vinyl
★ Digitally Printed Banner
★ Digitally Printed Flag
★ Glass Manifestation
★ Projection screen film
★ Energy Saving Window film
★ Safety and security window film
★ UV protection anti fading window film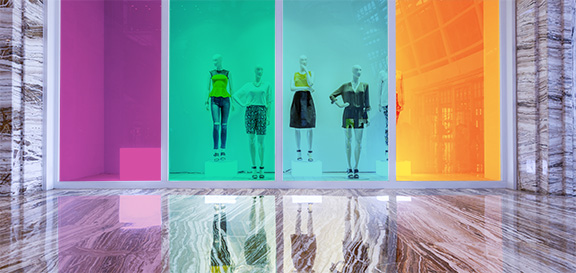 You can come to us if you are looking for temporary window decoration and seasonal window display decoration. With our assistance, your windows can change several times a year to constantly reflect your sales, products you'd like to focus on and to better address holidays and marketing events. If you are unsure what you'd like to decorate with but you are looking for a pop of colour, we will be happy to discuss with you and find the optimal solution to fit in your budget and preferences. We will provide it is eye catching and sure to draw your customers closer to your business.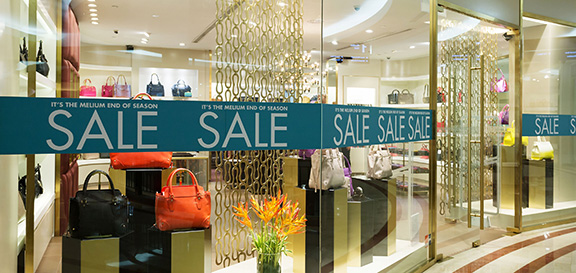 We can also install
specialist window films
like:
UV protection film
to help you save your display models from fading;
Energy saving window film
to reject the sun heat entering your premises and reduce significantly your bills for cooling in the summer;
Glass manifestation film
and
Safety and security window film
to comply with the regulation standards;
Projection screen film
to attract customers attention to your windows using video.
If you have an in-house design team or work with a design studio who have created a design for you, we can work by their specifications, to manufacture and fit all the pieces for your
store front branding
,
office interior branding
and
vehicle branding
and complete your entire image. So give us a call today on
0800 133 7970
and find out how we are able to help you increase your business volume and brand awareness!
In need of
wide format printing
to cover long stretches of windows? We've got you covered! If your print size is larger than 5 sq.m check
our special offer
.
MATERIAL / SERVICE
PRICE under 5 sq.m
PRICE above 5 sq.m
Vinyl print - matt, gloss, transparent
from
£20 sq.m
from
£8 sq.m
Perforated Vinyl print
from
£30 sq.m
from
£9 sq.m
Banner print
from
£20 sq.m
from
£8 sq.m
Banner mesh print
from
£25 sq.m
from
£8 sq.m
Flag print
from
£40 sq.m
from
£12 sq.m
Wallpaper print
from
£30 sq.m
from
£17 sq.m
Wallpaper installation
from
£10 sq.m
from
£10 sq.m
Canvas print
from
£40 sq.m
from
£20 sq.m
Hot laminate on printed vinyl
from
£7 sq.m
from
£4 sq.m
Contour cut on printed vinyl
from
£7 sq.m
from
£5 sq.m
Window/Wall vinyl cut
from
£16 sq.m
from
£10 sq.m
Window/Wall vinyl installation
from
£10 sq.m
from
£10 sq.m

* All prices are VAT exclusive.
** Design is not included.
*** All prices include materials.
**** Prices for banner and banner mesh include sewing and/or holes.
***** Prices are for orders of up to 5 sq.m size. For larger orders check our special offer